Art For Your Yard
This post brought to you by Scotts Miracle-Gro. All opinions are 100% mine.
I came across this picture of a garden and it made my hands itch. I would love for our yard to look so beautiful, but no matter what I plant, it simply refuses to grow.
That is no surprise, because our summers are hot and the soil hardly retains water, but I just came across the solution to those problems: Scotts Florida Select Natural Eucalyptus Mulch.
It is highly effective in preventing weeds, conserving the moisture in the soil and tempering the heat of the sun. It consists of plantation-grown Eucalyptus trees and is guaranteed to be without any construction, demolition, pallet, or other waste materials.
Eucalyptus re-grows up to 4-times faster than Cypress and is therefore a great, sustainable alternative. Since it is also 100% grown in Florida, it is the ideal product for this climate.
Residents of Florida would be supporting their local economy by purchasing it and for those of you who live elsewhere in the nation; Scotts Nature Scapes mulch is an excellent choice for your garden as well. It has the same benefits and comes in 3 different colors and a variety of textures.
It is easy in use and you don't need many gardening supplies either. A spade, rake, plants, plus several bags of this Eucalyptus mulch take any garden from eyesore to beauty in no time.
I would enjoy this sustainable gardening immensely and eventually achieve these results.
There is nothing to it; simply spread it 3 inches deep around trees, shrubs, flowers or vegetables. Ensure doing this after the seeds have germinated and/or plants have developed, not before!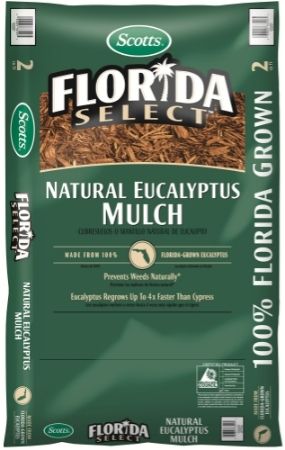 Remember to keep the mulch several inches from tree trunks, house foundations, or other wood structures to prevent mold and rotting.
Eucalyptus Mulch is the best option for your landscape and always ensures your garden looks at its best without much effort.
With the colors Classic Black, Sierra Red, and Deep Forest Brown, using Scotts® Nature Scapes® mulch is almost like painting your garden.
It is art for your yard!